ItemSkins is a plugin that adds unique cosmetics to your server and it's EULA friendly too, this plugin is very flexible, with this plugin you can add skins to all items that you ever wish and allows players to choose the skin that they wanted and it has the ability to clear skin, meaning it will reset the skin to the normal one.
How does this plugin work?
This plugin will play around with the custom model data's of the item, meaning when the player changes their item skin, we will change the custom model data of the item, so because of that, we can change the item's skin without changing any information such as nbt tags, etc besides the custom model data.
Features:
Adding as many skins as you want with any materials.
Drag & Drop skin applier feature, works like ordinary drag & drop custom enchants plugin with skin remover (black scroll)
Pagination GUI, the plugin will generate page automatically, so you don't need to worry to add a lot of skins.
Preview Skin feature (look at the showcase)
Detect No Permission Skin, with this feature it's possible to remove the skin on the item If the player doesn't have permission to use that skin.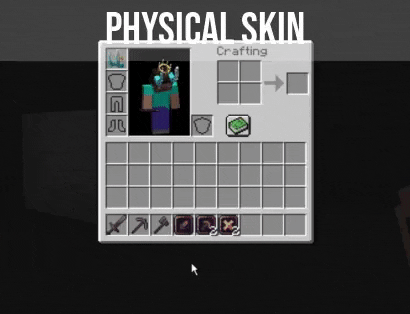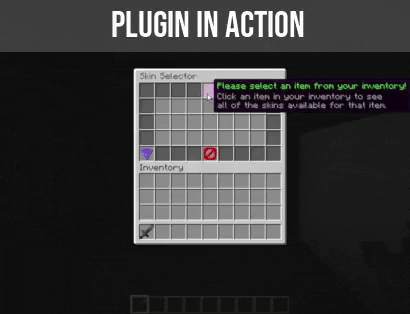 /itemskins - shows help messages
/itemskins reload - reload the configuration (itemskins.admin)
/itemskins physical (player) (material) (skin) [amount] - gives physical skin to specific player (itemskins.admin)
/itemskins remover (player) [amount] - give skin remover to specific player (itemskins.admin)
/skins - open the skin selector inventory
You can view the configuration files
here
!
Additional Information:
We also provide the sample resource pack for you guys to use, we included the resource pack on the download file. All resource pack assets are created by our amazing designer
TwistedDreams
, thanks to him.
IMPORTANT NOTE:
THIS PLUGIN REQUIRES KNOWLEDGE ON RESOURCE PACK (ESPECIALLY CUSTOM MODEL DATA) TO SHOW DIFFERENT MODELS OF THE ITEM, DO NOT BUY IF YOU DON'T KNOW HOW TO INSTALL A MODEL ON THE RESOURCE PACK OR AT LEAST HIRE A RESOURCE PACK DESIGNER